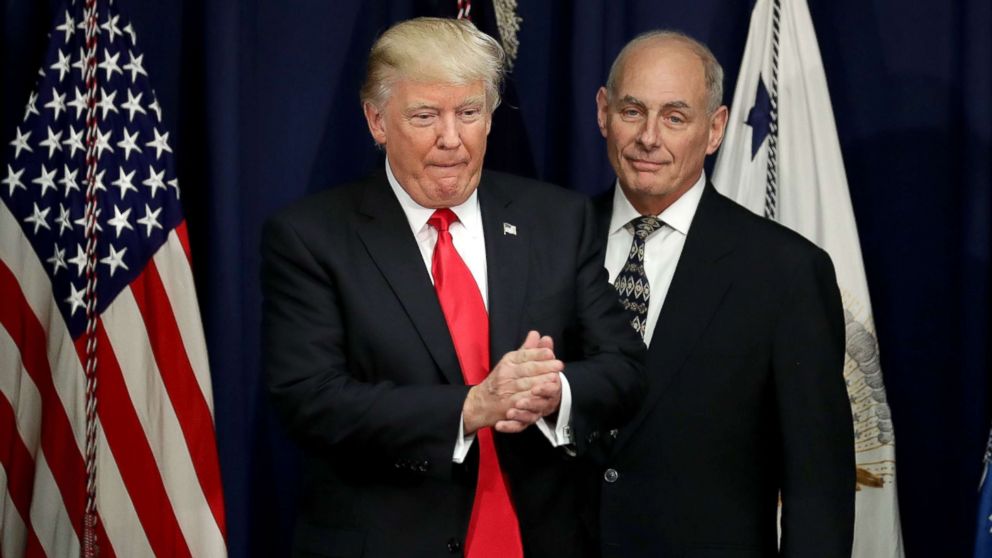 White House Chief of Staff John Kelly took the rare step of issuing a swift, public denial to a new report that alleges he called President Donald Trump an "idiot" in recent months amid an allegedly increasingly acrimonious relationship with his boss.
"I spend more time with the President than anyone else and we have an incredibly candid and strong relationship," Kelly said in a statement. "He always knows where I stand and he and I both know this story is total BS."
"I am committed to the President, his agenda, and our country," Kelly added. "This is another pathetic attempt to smear people close to President Trump and distract from the administration's many successes."
Zach Fuentes, assistant to the chief of staff and special assistant to the president, reaffirmed Kelly's statement, telling ABC News the story is "complete BS."
"He never said that," Fuentes said. "I was in the meeting."
The blistering report from NBC News details repeated instances in which Kelly insulted the president.
In one meeting, Kelly reportedly said, "He doesn't even understand what DACA is. He's an idiot." Kelly reportedly added, "We've got to save him from himself."
The NBC News report, citing four anonymous sources, also claims Kelly has boasted, "I'm the one saving the country" on several occasions, and damaged morale in the West Wing with disparaging comments about women being "more emotional than men."
CNN also reported Monday that in what "appeared to be a moment of frustration," Kelly said he believed the president "was becoming unhinged."
This comment came during a meeting with the Defense Secretary Jim Mattis, Chairman of the Joint Chiefs of Staff Joseph Dunford and senior National Security Council officials, according to CNN.
Trump took to Twitter Monday night to ardently rebuke the multiple reports, calling them "false stories" that used "only unnamed sources."
The Fake News is going crazy making up false stories and using only unnamed sources (who don't exist). They are totally unhinged, and the great success of this Administration is making them do and say things that even they can't believe they are saying. Truly bad people!

— Donald J. Trump (@realDonaldTrump) April 30, 2018
The president also insisted that the White House "is running very smoothly."
The White House is running very smoothly despite phony Witch Hunts etc. There is great Energy and unending Stamina, both necessary to get things done. We are accomplishing the unthinkable and setting positive records while doing so! Fake News is going "bonkers!"

— Donald J. Trump (@realDonaldTrump) April 30, 2018
This is not the first time Kelly has been the subject of controversy or linked to chaos inside the White House during his nine-month tenure as chief of staff.
In February, Kelly came under fire for his role in the ousting of former White House aide Rob Porter. The chief of staff defended Porter amid allegations of domestic abuse, calling him "a man of true integrity and honor."
He was criticized for how he handled the scandal, which sparked backlash even from the president himself. ABC News reported two days after Porter resigned that Trump was so furious over Kelly's handling of the situation that he spoke with confidantes about possibly replacing Kelly.
In January, Kelly told Fox News that the president "has evolved" since becoming president, which embarrassed Trump.
"He has evolved in the way he's looked at things," Kelly said. "Campaigns and governing are two different things."
Trump took to twitter to immediately contradict Kelly's statement, writing, "The Wall is the Wall, it has never changed or evolved from the first day I conceived it."
The Wall is the Wall, it has never changed or evolved from the first day I conceived of it. Parts will be, of necessity, see through and it was never intended to be built in areas where there is natural protection such as mountains, wastelands or tough rivers or water…..

— Donald J. Trump (@realDonaldTrump) January 18, 2018
Last month, however, Trump struck a more adulatory tone with Kelly during a visit to the Marine Corps Air Station Miramar, praising the four-star general on his job performance.
"He's doing a great job in Washington," Trump said of Kelly during his remarks.
After these latest reports of a divide between Trump and his right-hand man, sources tell ABC news that the two stand on solid ground.
ABC News' Meridith McGraw contributed to this report.